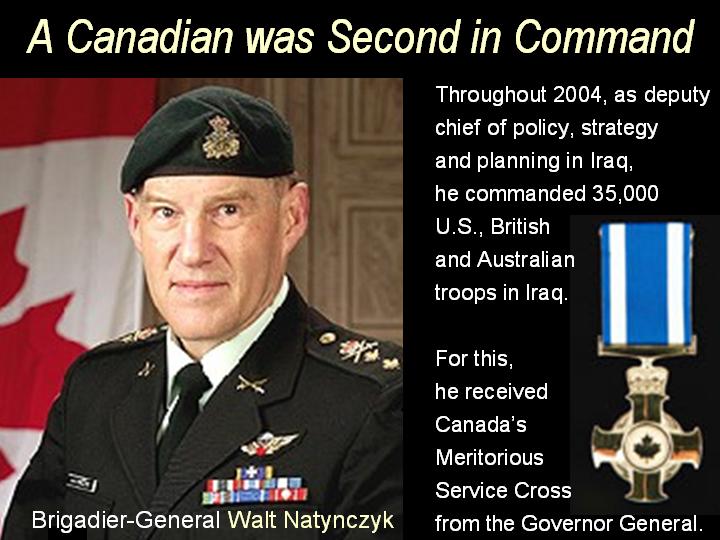 Canada's comedians are nearly always a country mile ahead of our pundits. Sometimes they're even a better source of news than the rest of CBC-TV. So it came as a surprise last week when Rick Mercer stopped grinding prematurely and missed the real climax.

In Question Period, Liberal MP Mark Holland had asked if Canadians would be informed when and if Canada's military starts handing over prisoners again to the Afghan authorities. Conservative House Leader Peter Van Loan took evasive action: "What we will not do is what the agent for the Taliban intelligence agency wants us to do over there, which is to release to them information on detailed operations in the field" (G&M Feb 12 08).

Mercer took it from there.

"Van Loan says that his point was by debating Afghanistan in Parliament, you are giving information to the Taliban, which means the Taliban are watching Question Period, which means that the Taliban are watching NewsWorld...."

"Stop telling us the weather Claire Martin; when you tell us, you're telling the Taliban." That was supposed to be the punch line. But reality had outstripped satire when CanWest News Services reported on government documents ordering that Environment Canada scientists must refer all media queries to Ottawa where communications officers would help them respond with "approved lines."

This is not a joke. This is Harper's Canada, 2009.

Andrew Weaver, a UVic climatologist who works closely with several Environment Canada scientists says, "They can't even now comment on why a storm hit the area without going through head office."

The CanWest story, which was republished in the media giant's newspapers across the country, cites a PowerPoint presentation from Environment Canada's executive management committee:
"media relations will work with individual staff to decide how to best handle the call; this could include: Asking the program expert to respond with approved lines; having media relations respond; referring the call to the minister's office; referring the call to another department."

Gregory Jack, who is acting director of Environment Canada's ministerial and executive services, ran interference for the policy saying, "there is no change in the access in terms of scientists being able to talk" because it allowed them to respond in a "quick, accurate way that is consistent across Canada."

Jack refused to explain how "approved lines" are being written or who is approving them. (Munro Winnipeg Free Press Feb 1 08)

It's not the first time the Harper government has tried to shut down government scientists who might have well-substantiated ideas of their own about climate change and other subjects of vital public interest.

In 2005 (Ottawa Press Nov 20), Mark Tushingham, author of Hotter than Hell, a novel about the Earth becoming so hot from climate change that the US and Canada are at war over water, was due to give a presentation to the National Press Club about the science behind the novel.

Just 15 minutes before the presentation was to begin, Tushingham, who is also a scientist for Environment Canada, backed out. He had been ordered by the minister, then Rona Ambrose, not to appear and not to speak. And that's no joke either.

Divers opinions about climate change are not the only secrets that have hit the fan in the last week or so. Liberals play the game too.

Most listeners probably remember Paul Celucci. He was the American Ambassador who consistently got better press for his opinions about Canadian politics than most Canadians do. I remember in particular that he urged the Liberals to hurry up with Martin's "coronation"--that was the word reporters used in those days--Martin's coronation as Liberal leader.

That's because Chretien was refusing to go along with the invasion, or so he said. It's a matter of public record that Celucci needled Canadians opposed to the war because "Canadian naval vessels, aircraft and personnel... will supply more support to this war in Iraq indirectly... than most of those 46 countries that are fully supporting our efforts there." It was true.

But many, even in the peace movement, have chosen to forget those remarks the better to cherish Chretien's bold opposition to the war, a position the former PM recently re-iterated--on the Rick Mercer Report btw.

Richard Sanders, the coordinator of the Ottawa-based Coalition to Oppose the Arms Trade, laid it out in an article on Canada's secret war this month in the Vancouver publication Common Ground, and he added more details in a comment on the World Report blog.

Sanders lists eighteen different ways that Canada has supported the war in Iraq. These include Canadian Brig. Gen., Nicolas Matern, who has just arrived in Baghdad. Matern is serving as the deputy commander of the US 18th Airborne Corps and reports to Lt. Gen. Lloyd Austin III, who leads the 170,000-member Multi-National Corps-Iraq. Its primary task is to conduct "offensive operations to defeat remaining non-compliant forces."

Matern replaces Canadian Forces Major General Peter Devlin who was Deputy Commander of the Multi-National Force-Iraq from January 2004. Devlin replaced another Canadian Major General Walt Natynczyk who commanded ten brigades totalling 35,000 troops stationed throughout Iraq. When Adrienne Clarkson awarded Natynczyk Canada's Meritorious Service Cross, her office extolled his "pivotal role in the development of numerous plans and operations [which] resulted in a tremendous contribution to...Operation Iraqi Freedom."

Providing commanders is just one of Sander's list of eighteen ways that Canada has provided support for the war in Iraq. It's worth a read. Don't miss the rabble forum where each of the items is debated by participants who prefer the view that Canada is a genuine non-participant. Don't take my word for it.

It is an important issue. Liberal Foreign Affairs critic Bob Rae made this point speaking at a rally in support of US war resisters in Toronto on January 26.

"I have to say, still--unless this is another thing that has changed over the last 18 months--but it was historically the policy of the Government of Canada that there was no legal justification for the invasion of Iraq."

That is likely to be a significant part of the argument when the motion that proposed to allow military refusers to stay in Canada goes before Parliament.

How then, does the Conservatives' information policy, with its predisposition to crack down and provide "approved lines" interact with the secret war we continue to learn about? That brings us to General Rick Hillier's remarks to the Conference of Defence Associations.

While politicians saw Hillier's remarks as an attempt to cut off debate about Afghanistan in Parliament, the CBC's chief political reporter, Keith Boag, saw the Chief of Defence Staff as a "straight talker."

Boag: "One of the things that got General Hillier the top job in the military is his straight talk; and one of the things that sometimes gets him into trouble is his straight talk."

Does that sound as if it is drenched in irony? Listen to Boag's example as a straight talker:

Hillier: "I'm not going to stand here and tell you that the suicide bombings of this past week have been related to the debate back here in Canada, but I also cannot stand here and say that they are not."

Sounds like he's running for office.



This article is published by James Terral under a Creative Commons licence. You may republish it free of charge, wholly or in part, with attribution and for non-commercial purposes following these guidelines. Commercial media must contact World Report worldreport (at) cjly dot net for permission and fees. Some postings on this site are published under different terms.
Recommend this Post