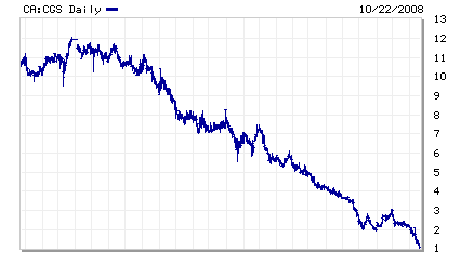 The economic downturn battering the media sector may get worse over the next year before it gets better, the head of CanWest Global Communications Corp. said Wednesday.


| | |
| --- | --- |
| | The red-ink in the first quarter followed a loss of nearly $1.02-billion in the last three months of fiscal 2007, when the media company unexpectedly took a $1.01-billion non-cash writedown on goodwill and licences related to its Canadian conventional TV. |
Speaking to investors at the company's annual meeting in Toronto, CanWest chief executive officer Leonard Asper said the steep drop in advertising revenue seen across the industry may not yet have reached its lowest point.

Read the rest of the Robertson & Partridge article here =>

David Berman speculates (G&M Jan 16 '09) "With Nortel Networks Corp. in bankruptcy protection, CanWest Global Communications Corp. becomes the next troubled Canadian company to watch in its death throes."

The Globe Investor reports that on January 16, some 56,000+ shares sold on the TSX for $0.52/share, up $0.010. The 52-week high was $6.28 on Jan 16 '08; the 52-week low, $0.340 on Dec 18 '08. Symbol is CGS-T for TSX.

In October, Marc Edge, the author of Asper Nation, wrote about the precipitous decline in the value of CanWest stock. Media concentration, it seems, has some of the same disadvantages for media giants as mega-projects do in engineering. See also Charlie Smith, "CanWest stock price takes a beating," Georgia Straight, July 8, 2008.

It's probably no accident that two independent West Coast media organizations have been drawn to the unlikely story of fluctuating stock prices. CanWest effectively owns the daily press on the coast and is notorious for its Israel-right-or-wrong reporting. Human interest stories about Arabs or Muslims, for instance, are hard to find, a point made perhaps too well by a group of Palestinians who parodied the

Vancouver Sun

. CanWest has sued the offending satirists, and the BC Supreme Court has ruled that the CanWest's record of dismal bias is inadmissable as evidence relevant to the case.

No one would argue that the swift justice of the market's invisible hand is at work, but the reasons for this gap in the discourse may stem from a popular misreading of the Book of Revelations that, for the time being, is beyond the scope of this blog.


Frank editor Michael Bate wants CanWest to sue him, too.
Recommend this Post